Modularity for dummies, deel I
Onder druk van de markt en hun concurrenten zoeken machinebouwers, maar eigenlijk iedere systeem ontwikkelaar, naar manieren om de 'magische driehoek' op te rekken en in te drukken. Ofwel: in kortere tijd een hogere kwaliteit leveren tegen een lagere kostprijs. In die driehoek zijn geld-tijd-kwaliteit onlosmakelijk met elkaar verbonden.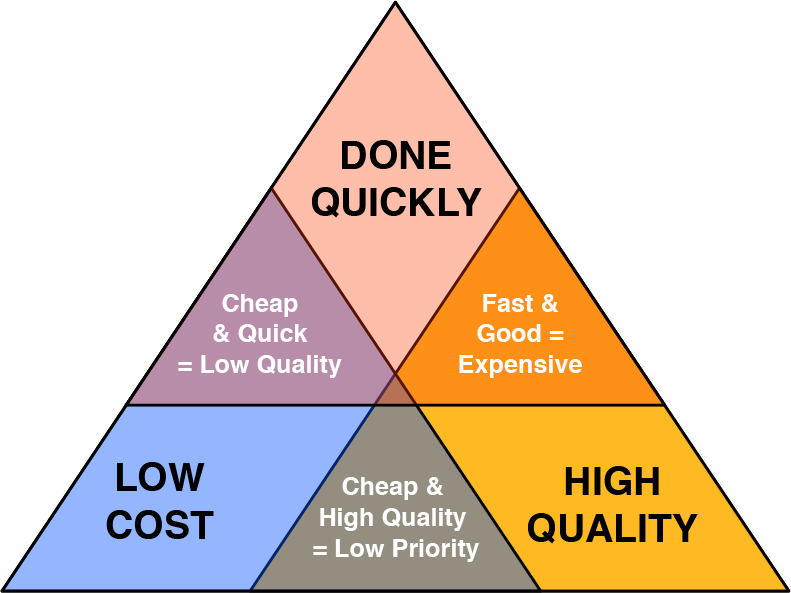 'Modulariteit' is een veelgehoorde kreet: een oplossing die een uitweg biedt uit de beknelling van de magische driehoek?
Wellicht. Maar wat is modulariteit eigenlijk?
Ik herinner me een bezoek aan een machinebouwer met een productportfolio van een stuk of 10 verschillende machines. Zij waren succesvol, mede dankzij de, naar hun mening, modulaire bouw van hun machines.
Bij de rondleiding door de fabriek stonden we even stil bij één van hun indrukwekkende producten. Best een complex samenstel van mechanische, pneumatische, hydraulische, elektrische en (onzichtbare) software delen.
Op mijn vraag hoe deze machine nu modulair was opgebouwd, kwam na enig heen-en-weer-en-langs-elkaar-heen praten het antwoord: dit was 1 (één) module! …. met veel opties. Aha…
Hun portfolio van 10 verschillende productlijnen had even zoveel modules. Dat is in ieder geval lekker overzichtelijk. Ongeveer zoals een LEGO bouwdoos van een piratenschip, waarbij de inhoud bestaat uit 1 groot LEGO blok …. in de vorm van een piratenschip.
Dit is wat ik noem monolith-standaardisatie. Ook wel het 'maximaal model' standaardisatie. Een beetje zoals Henry Ford in de beginjaren van de automobielindustrie: de T-Ford was in 1 variant leverbaar, in alle kleuren zolang het maar zwart was.
En net als Henry Ford kan je daar best succesvol mee zijn.
Totdat de concurrent uw klanten meer varianten, keuzemogelijkheden, gaat bieden.
Een tijdje gaat het nog goed, door allerlei opties er bij in te knutselen. Maar het aantal varianten wat je op die manier kan maken en onderhouden is beperkt.
Autofabrikanten, IKEA en steeds meer machinebouwers hebben dat probleem onderkent. Zij bouwen 'modulair'.
Modulair bouwen betekent dat je je (LEGO)bouwblokken een dusdanige omvang geeft, dat je alle huidige (en te verwachten toekomstige) varianten kan bouwen door de blokken te combineren tot een groter geheel.
Maar hoe groot of klein moeten die blokken dan zijn? LEGO Duplo of Technic? Met grote blokken bouwt het zo makkelijk. Kleine blokken maken het zo flexibel. Daar gaan we het in deel II over hebben. Want ergens daar tussenin ligt voor u de beste oplossing.