Waarom je moet investeren in het deel met de minste toegevoegde waarde
Dat klinkt tegenstrijdig: veel geld steken in het deel dat het minst waarde toevoegt. Maar denk er eens over na: uw klant is bereid te betalen voor een complete oplossing voor zijn probleem. U levert een product en misschien ook nog een dienst.  De kunst is nu om te achterhalen waarom de klant voor u kiest en niet voor uw concurrent. Waarin maakt u het verschil? Waar ligt uw echte toegevoegde waarde?
Henry Ford verkocht geen auto's… hij verkocht mobiliteit!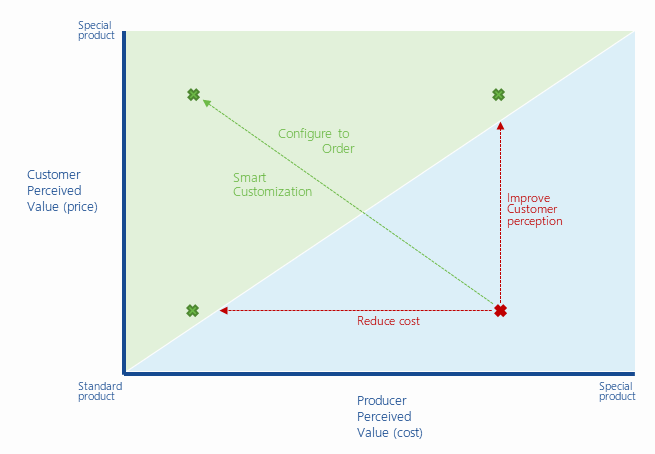 Als u dat heeft uitgevogeld weet u ook waar u de minste waarde toevoegt. Nu is het zaak om juist dat deel tegen zo laag mogelijke kosten te leveren. Immers: de klant wil daar zo min mogelijk voor betalen.
Er zijn boeken vol geschreven over hoe je dat moet doen. Sleutelwoorden zijn dan vaak: standaardiseren, automatiseren, LEAN, uitbesteden, off-shoring, etc. Alles wat er in de afgelopen 50 jaar voor zorgde dat een maakbedrijf in Nederland kon blijven voortbestaan… of juist niet.
Bedrijven die tijdig bovenstaande vragen hebben beantwoord en er op hebben geacteerd, die overleven ook op de langere termijn.
De industriële revoluties denderen immers gewoon door (we zijn intussen bij 4.0 aangeland), ook zonder dat u mee doet.
Het paradoxale is echter dat, om te overleven, men moet investeren in het minst waardevolle deel. Enkel en alleen om er voor te zorgen dat de Producer Perceived Value (PPV) in overeenstemming wordt gebracht met de Customer Perceived Value (CPV).
En dat vraagt lef! En een vooruitziende blik! En vasthoudendheid! En vertrouwen, overtuiging of geloof! En niemand kan u garanderen dat het lukt…
… dus u hoeft het niet te doen… best kans dat u deze industriële revolutie ook wel overleeft.